Year 5
"In Faith and Love, We Learn and Grow."
Maths
Maths mastery is the core of our learning approach at St Hugh of Lincoln. We use the Power Maths scheme of work to deliver a comprehensive curriculum covering all aspects of the National Curriculum. Power Maths is a UK curriculum mastery programme designed to spark curiosity and excitement and nurture confidence in maths. … Built around a child‑centred lesson design that models and embeds a growth mindset approach to maths and focuses on helping all children to build a deep understanding of maths concepts.
Term
Units

Autumn
Term

Unit 1: Place Value within 100,000
Unit 2: Place Value within 1,000,000
Unit 3: Addition and Subtraction
Unit 4: Graphs and Tables
Unit 5: Multiplication and Division (1)
Unit 6: Measure –area and perimeter.

Spring
Term

Unit 7: Multiplication and Division (2)
Unit 8: Fractions (1)
Unit 9: Fractions (2)
Unit 10: Fractions (3)
Unit 11: Decimals and Percentages

Summer
Term

Unit 12: Decimals
Unit 13: Geometry—properties of shapes (1)
Unit 14: Geometry—properties of shapes (2)
Unit 15 Geometry—position and direction
Unit 16: Measure—converting units
Unit 17: Measure—volume and capacity
English Learning
English at St Hugh of Lincoln is based upon the recognition of the role of outstanding English texts in garnering interest and engagement with learning across reading, writing and the spoken word. Using a range of classic texts as inspiration, we aim to develop confidence in reading and oracy, and writers who feel there is a value, a purpose and a beauty in what they write. A typical learning journey starts with a in-depth look at an outstanding text. Every week typically features an extended write supplemented by Spelling, Punctuation and Grammar learning.
Term
Title and Author
Key Themes

Autumn
Term

Tom's Midnight Garden – Phillippa Pearce

When Tom is sent to stay at his aunt and uncle's house for the summer, he resigns himself to endless weeks of boredom. As he lies awake in his bed he hears the grandfather clock downstairs strike . . .eleven . . . twelve . . . thirteen . . .

Thirteen! Tom races down the stairs and out the back door, into a garden everyone told him wasn't there. In this enchanted thirteenth hour, the garden comes alive - but Tom is never sure whether the children he meets there are real or ghosts . . . This entrancing and magical story is one of the best-loved children's books ever written.

Street Child- Berlie Doherty


The unforgettable tale of an orphan in Victorian London, based on the boy whose plight inspired Dr Barnardo to found his famous children's homes. When his mother dies, Jim Jarvis is left all alone in London. He is sent to the workhouse but quickly escapes, choosing a hard life on the streets of the city over the confines of the workhouse walls.
Struggling to survive, Jim finally finds some friends… only to be snatched away and made to work for the remorselessly cruel Grimy Nick, constantly guarded by his vicious dog, Snipe.




Perseverance
Love
Family/Friendship

• Orphans

• Villains

• Heroes

Spring
Term

Rooftopppers - Katherine Rundell

Rooftoppers merges fantasy and historical fiction with sophisticated lyrical prose and vivid imagery that will delight readers.

Join plucky heroine Sophie, her eccentric guardian Charles, and her intrepid orphan allies on the rooftops of Victorian Paris, as they encounter suspense and adventure that will keep kids of all ages on the edge of their seats right to the heartwarming end.

My Friend Walter - Michael Morpurgo

A hilarious tale of history come to life, from former children's laureate and master storyteller, Michael Morpurgo. Living with a ghost can have its difficulties, I discovered, even if he is your friend. Remember Sir Walter Raleigh, who laid his cloak in a puddle so Queen Elizabeth I could walk across? Well, Bess meets his ghost and finds out she's his ancestor. How will Bess explain Sir Walter to her family? Especially when he breaks her brother's fishing rod, steals a horse and smokes cigars in her room!

Summer
Term

The London Eye Mystery – Siobhan Dowd
When Ted and Kat watched their cousin Salim get on board the London Eye, he turned and waved before getting on. After half an hour it landed and everyone trooped off - but no Salim. Where could he have gone? How on earth could he have disappeared into thin air?

Since the police are having no luck finding him, Ted and Kat become sleuthing partners. Despite their prickly relationship, they overcome their differences to follow a trail of clues across London in a desperate bid to find their cousin. And ultimately it comes down to Ted, whose brain works in its own very unique way, to find the key to the mystery.



Zlata's Diaries - Zlata Filipovic

Zlata Filipovic was given a diary shortly before her tenth birthday and began to write in it regularly. She was an ordinary, if unusually intelligent and articulate little girl, and her preoccupations include whether or not to join the Madonna fan club, her piano lessons, her friends and her new skis. But the distant murmur of war draws closer to her Sarajevo home. Her father starts to wear military uniform and her friends begin to leave the city. One day, school is closed and the next day bombardments begin. The pathos and power of Zlata's diary comes from watching the destruction of a childhood. Her circle of friends is increasingly replaced by international journalists who come to hear of this little girl's courage and resilience. But the reality is that, as they fly off with the latest story of Zlata, she remains behind, writing her deepest feelings to 'Mimmy', her diary, and her last remaining friend.

• Loss
• Kidnap
• Mystery

Adventure
Courage
Resillience
Friendship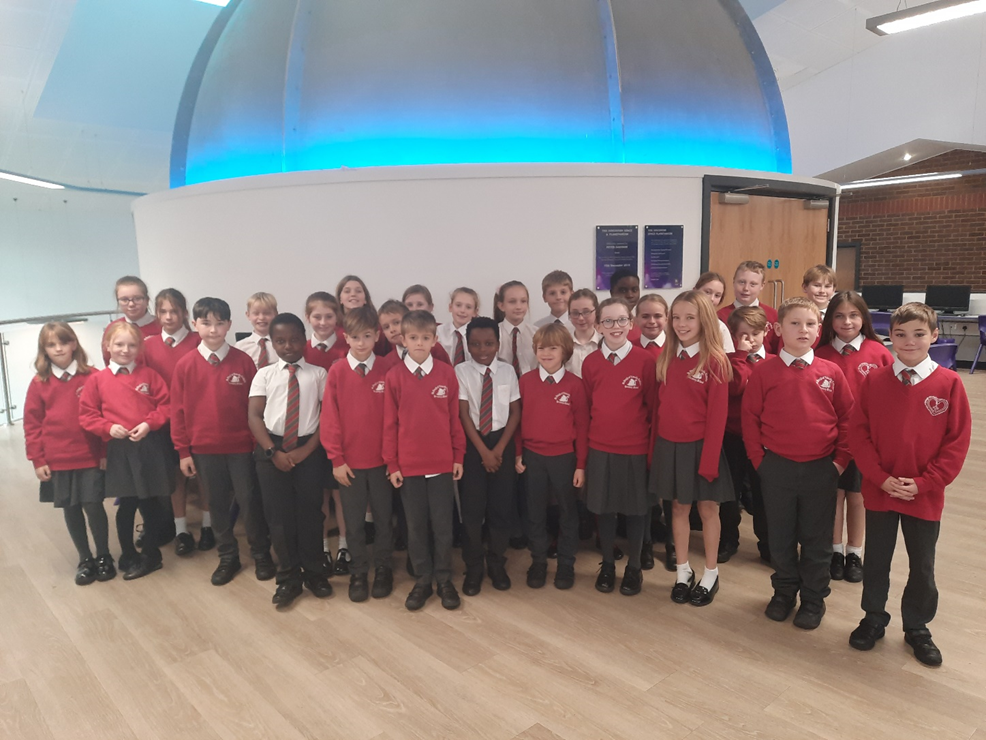 Year 5 - Science Trip - Planetarium - November 2022
RE Learning
At St. Hugh of Lincoln Primary School we have adopted 'Come and See,' the Religious Education programme supported by the Diocese of Arundel and Brighton. Central to the programme is Christian belief in Jesus Christ, His Word and Revelation of God.
Units

Autumn
Term

Unit 1: Ourselves
Unit 2: Life Choices
Other World Faiths: Judaism
Unit 3: Hope

Spring
Term

Unit 4: Mission
Unit 5: Memorial
Unit 6: Sacrifice

Summer
Term

Unit 7: Transformation
Unit 8: Freedom and Responsibility
Other World Faiths: Islam
Unit 9: Stewardship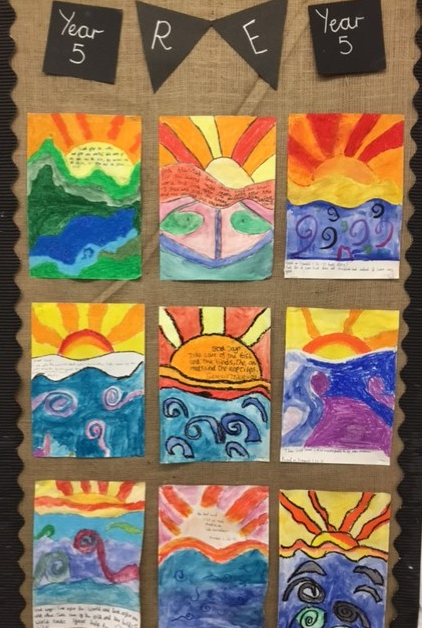 Curriculum Learning
| Term | Science | History/Geography | Computing | Art/DT | Music | Latin/Phonics | PSHE | RSE |
| --- | --- | --- | --- | --- | --- | --- | --- | --- |
| Autumn 1 | Life Cycles | The Anglo Sazons (H) | Systems and searching | Electrical Systems: Doodlers | Livin' on a Prayer | Minimus Latin | Being Me in My World | |
| Autumn 2 | Earth and Space | Changes in our local environment (G) | Video production | Sculpture and 3D: Interactive installation (A) | Classroom Jazz 1 | Minimus Latin | Celebrating Difference | God Loves Us in Our Changing and Developing |
| Spring 1 | Separating Mixtures | The Vikings (H) | Selection in physical computing | Mechanical systems: Making a pop-up book | Make You Feel My Love | Minimus Latin | Dreams and Goals | |
| Spring 2 | Types of Change | Europe: A study of the alpine region. (G) | Flat-file database | Drawing: I need space (A) | The Fresh Prince of Bel Air | Minimus Latin | Healthy Me | God Loves Us in Our Changing and Developing |
| Summer 1 | Materials | Journeys (H) | Introduction to vector graphics | Food: What could be healthier? | Dancing in the Street | Minimus Latin | Relationships | |
| Summer 2 | Forces | Journeys – Trade (G) | Selection in quizzes | Painting and mixed media: Portraits (A) | | Minimus Latin | | God Loves Us in Our Changing and Developing |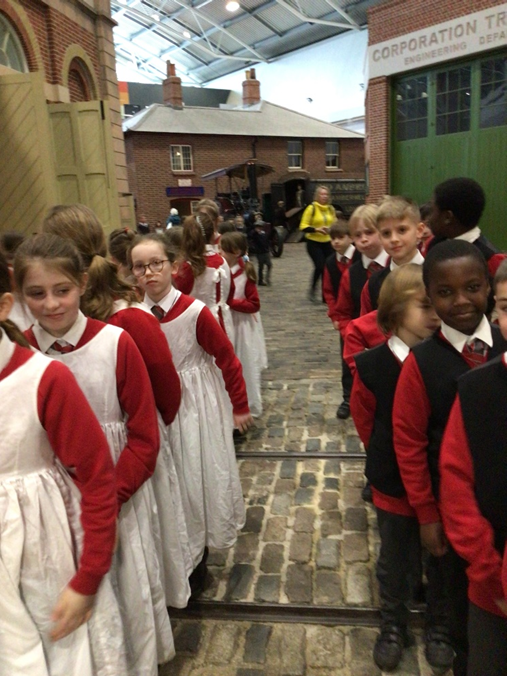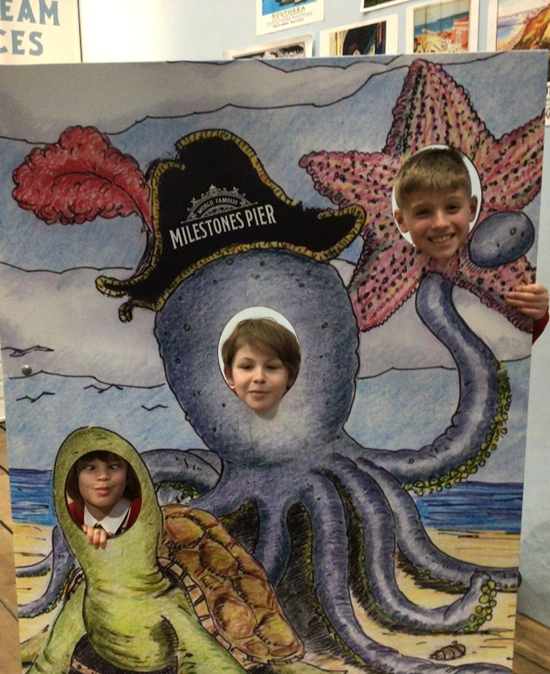 Year 5 Trip to Milestones Museum - March 2023