Year 4
"In Faith and Love, We Learn and Grow."
Maths
Maths mastery is the core of our learning approach at St Hugh of Lincoln. We use the Power Maths scheme of work to deliver a comprehensive curriculum covering all aspects of the National Curriculum. Power Maths is a UK curriculum mastery programme designed to spark curiosity and excitement and nurture confidence in maths. … Built around a child‑centred lesson design that models and embeds a growth mindset approach to maths and focuses on helping all children to build a deep understanding of maths concepts.
Term
Units

Autumn
Term

Unit 1: Place Value—four digit numbers (1)
Unit 2: Place Value—four digit numbers (2)
Unit 3: Addition and Subtraction (2)
Unit 4: Measure—perimeters
Unit 5: Multiplication and Division (1)

Spring
Term

Unit 6: Multiplication and Division (2)
Unit 7: Measure—area
Unit 8: Fractions (1)
Unit 9: Fractions (2)
Unit 10: Decimals (1)

Summer
Term

Unit 11: Decimals (2)
Unit 12: Money
Unit 13: Time
Unit 14: Statistics
Unit 15 Geometry—angles and 2D shapes
Unit 16: Geometry—position and direction.
English Learning
English at St Hugh of Lincoln is based upon the recognition of the role of outstanding English texts in garnering interest and engagement with learning across reading, writing and the spoken word. Using a range of classic texts as inspiration, we aim to develop confidence in reading and oracy, and writers who feel there is a value, a purpose and a beauty in what they write. A typical learning journey starts with a in-depth look at an outstanding text. Every week typically features an extended write supplemented by Spelling, Punctuation and Grammar learning.
Term
Title and Author
Key Themes

Autumn
Term

The Iron Man – Ted Hughes
The Iron Man is a fearsome figure, wreaking terrible destruction wherever he goes. He cannot be stopped - but it takes a child to realise that he is not simply a hostile monster, but could even be a friend. Then, when a monster from outer space threatens to lay waste to the planet and its people, it is the Iron Man who finds a way to save them.

Beowulf – Michael Morpurgo
In fifth-century Denmark, a murderous monster stalks the night, and only the great prince of the Geats has the strength and courage to defeat him. Beowulf's terrifying quest to destroy Grendel, the foul fiend, a hideous sea-hag and a monstrous fire-dragon is the oldest surviving epic in British literature.
• An Outsider
• Being Different
• Beating The Monster
Villain as a Friend

Spring
Term

The Abominables by Eva Ibottson
A hundred years ago in the Himalayan mountains, the daughter of an English explorer is abducted from her mountainside tent by a huge hairy monster - none other than the infamous Yeti. Luckily the intrepid Lady Agatha takes her kidnapping in her stride, and soon discovers that although he is huge and hairy, the Yeti is not so terrifying after all - he's simply a concerned father who needs help raising his loveable and eccentric family of not-so abominable snowmen.
• Protecting the environment
• Tolerance
• Kindness to animals
Defeating cruelty

Summer
Term

Kensukes' Kingdom by Michael Morpurgo
Michael is hungry, lonely and scared when he is washed up on a seemingly deserted island. He soon discovers another inhabitant - Kensuke, a former Japanese soldier - who, although initially unfriendly, provides Michael with food and water.

Gradually, a strong bond develops between the two castaways. This is a beautifully written tale of an exceptional friendship which survives beyond the boundaries of culture and language.
• Friendship
• Love
• Death
• Change
• Journey
• Youth and Age
RE Learning
At St. Hugh of Lincoln Primary School we have adopted 'Come and See,' the Religious Education programme supported by the Diocese of Arundel and Brighton. Central to the programme is Christian belief in Jesus Christ, His Word and Revelation of God.
Units

Autumn
Term

Unit 1: People
Unit 2: Called
Other World Faiths: Judaism
Unit 3: Gift

Spring
Term

Unit 4: Community
Unit 5: Giving and Receiving
Unit 6: Self-discipline

Summer
Term

Unit 7: New Life
Unit 8: Building Bridges
Other World Faiths: Hinduism
Unit 9: God's People
Curriculum Learning
| Term | Science | History/Geography | Computing | Art/DT | Music | Latin/Phonics | PSHE | RSE |
| --- | --- | --- | --- | --- | --- | --- | --- | --- |
| Autumn 1 | Electricity | The Americas (G) | The Internet | Drawing: Power Prints (A) | Mamma Mia | Minimus Latin | Being Me in My World | |
| Autumn 2 | Dangers to Living Things | The Ancient Egyptians (H) | Audio production | Structure: Pavilions | Glockenspiel Song Stage 2 | Minimus Latin | Celebrating Difference | God Loves Us in Our Differences |
| Spring 1 | Human Nutrition | Rivers and Water (G) | Repetition in shapes | Painting and mixed media: Light and dark (A) | Stop! | Minimus Latin | Dreams and Goals | |
| Spring 2 | Sound | Roman Britain (H) | Data logging | Mechanical Systems: Slingshot Toys (DT) | Lean on Me | Minimus Latin | Healthy Me | God Loves Us in Our Differences |
| Summer 1 | Grouping Living Things | Crime and Punishment (H) | Photo editing | Craft and design: Fabric of nature (A) | Blackbird | Minimus Latin | Relationships | |
| Summer 2 | Changes of State | Earthquakes and Volcanoes (G) | Repetition in games | Electrical Systems: Torches | | Minimus Latin | | God Loves Us in Our Differences |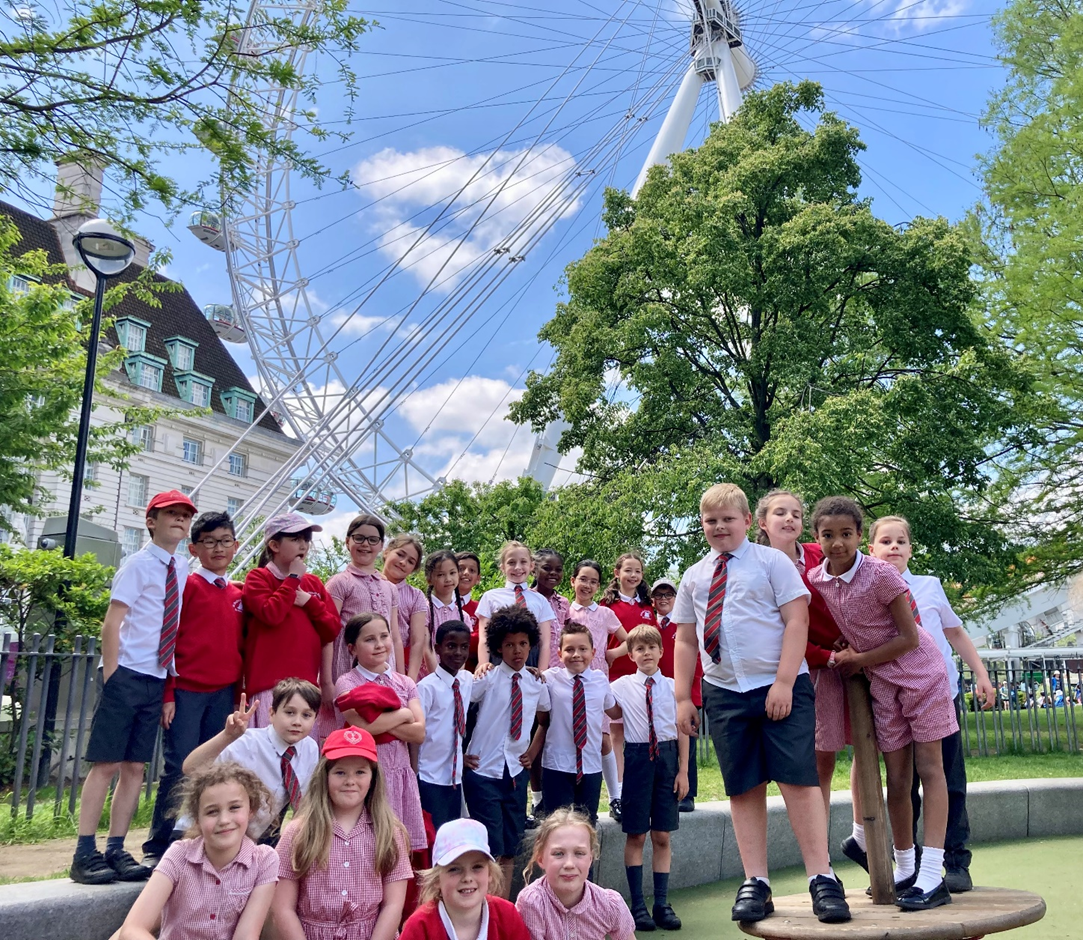 Trip to London - Royal Festival Hall - May 2023