Year 3
"In Faith and Love, We Learn and Grow. "
Maths
Maths mastery is the core of our learning approach at St Hugh of Lincoln. We use the Power Maths scheme of work to deliver a comprehensive curriculum covering all aspects of the National Curriculum. Power Maths is a UK curriculum mastery programme designed to spark curiosity and excitement and nurture confidence in maths. … Built around a child‑centred lesson design that models and embeds a growth mindset approach to maths and focuses on helping all children to build a deep understanding of maths concepts.
Term
Units

Autumn
Term

Unit 1: Place Value within 1000
Unit 2: Addition and Subtraction (1)
Unit 3: Addition and Subtraction (2)
Unit 4: Multiplication and Division (1)

Spring
Term

Unit 5: Multiplication and Division (2)
Unit 6: Money
Unit 7: Statistics
Unit 8: Length
Unit 9: Fractions (1)

Summer
Term

Unit 10: Fractions (2)
Unit 11: Time
Unit 12: Angles and property of shapes
Unit 13: Mass
Unit 14: Capacity
English Learning
English at St Hugh of Lincoln is based upon the recognition of the role of outstanding English texts in garnering interest and engagement with learning across reading, writing and the spoken word. Using a range of classic texts as inspiration, we aim to develop confidence in reading and oracy, and writers who feel there is a value, a purpose and a beauty in what they write. A typical learning journey starts with a in-depth look at an outstanding text. Every week typically features an extended write supplemented by Spelling, Punctuation and Grammar learning.
Term
Title and Author
Key Themes

Autumn
Term

King of the Sky by Nicola Davies

The Matchbox Diary - Paul Fleischman and Illustrated by Bagram Ibatoulline (Y5/6)
When a little girl visits her great-grandfather at his curio-filled home, she chooses an unusual object to learn about: an old cigar box. What she finds inside surprises her: a collection of matchboxes making up her great-grandfather's diary, containing objects she can hold in her hand, each one evoking a memory. Together they tell of his journey from Italy to a new country, before he could read and write – the olive stone his mother gave him to suck on when there wasn't enough food; a hairpin he found on the boat; a ticket still retaining the thrill of his first baseball game. With a narrative entirely in dialogue, Paul Fleischman makes immediate the two characters' foray into the past. With warmth and an uncanny eye for detail, Bagram Ibatoulline gives expressive life to their journey through time – and towards each other.

King of the Sky - Nicola Davies, illustrated by Laura Carlin
A little boy has come to start his life in a new country (which could be Wales) where nothing is familiar, apart from the racing pigeons kept by his neighbour: an old man called Mr Evans.
One day, Mr Evans hands the boy one of the pigeons and says it's his: the boy names it Re Del Cielo, King of the Sky.
Mr Evans and the boy enter King of the Sky into a race – it will go by train to Italy, where the boy is from, and fly home. Mr Evans says it has the wings for distance, but is he right? Perhaps the sunlight, the fountains and the smell of vanilla the boy misses so much will make the pigeon want to stay. Yet when the pigeon returns, the boy realises home can be more than one place.

Belief
Courage
Determination
Bravery

Spring
Term

The Firework Maker's Daughter – Philip Pullman
Lila dreams to become a firework-maker, just like her father. In order to become a true firework-maker, she sets off alone on a perilous journey to reach the terrifying Fire-Fiend. She travels through jungles alive with crocodiles, snakes, monkeys and pirates, and climbs up the scolding volcano. On finding the Fire-Fiend, she realises more is at stake than she ever imagined. Will Lila survive? Lila's is the kind of magical adventure that all children dream of and the gripping story of the fleet-footed heroine will livelong in the memory of anyone who enters her world.

Friends
Courage
Determination

Summer
Term

Lost Happy Endings
RE Learning
At St. Hugh of Lincoln Primary School we have adopted 'Come and See,' the Religious Education programme supported by the Diocese of Arundel and Brighton. Central to the programme is Christian belief in Jesus Christ, His Word and Revelation of God.
Units

Autumn
Term

Unit 1: Homes
Unit 2: Signs and Symbols
Other World Faiths: Judaism
Unit 3: Visitors

Spring
Term

Unit 4: Journeys
Unit 5: Listening and Sharing
Unit 6: Giving all

Summer
Term

Unit 7: Energy
Unit 8: Choices
Other World Faiths: Sikhism
Unit 9: Special Places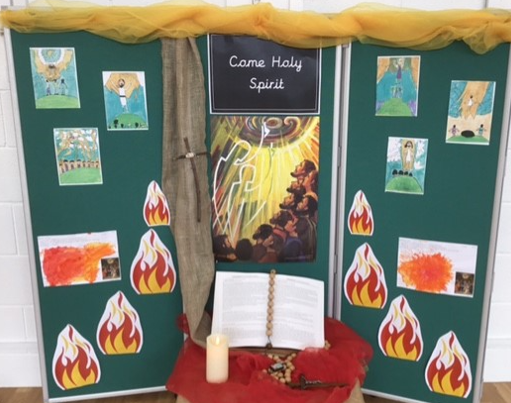 Curriculum Learning
Term
Science
History/Geography
Computing
Art/DT
Music
Latin/Phonics
PSHE
RSE

Autumn
1

Magnets and Forces
The Stone Age (H)
Connecting computers
Food: Eating seasonally
Let Your Spirit Fly
Minimus Latin
Being Me in My World

Autumn
2

Movement and Feeding
Climate and Weather (G)
Stop-frame animation
Drawing: Growing Artists (A)
Glockenspiel Stage 1
Minimus Latin
Celebrating Difference
How We Live in Love

Spring
1

Rocks and Soils
The Bronze and Iron Age (H)
Sequencing sounds
Digital world: Electronic charm
Three Little Birds
Minimus Latin
Dreams and Goals

Spring
2

What Plants Need
Our World (G)
Branching databases
Craft and Design: Ancient Egyptian Scrolls (A)
The Dragon Song
Minimus Latin
Healthy Me
How We Live in Love

Summer
1

Parts of Plants
Local History (H)
Desktop publishing
Structures: Constructing a castle
Bringing Us Together
Minimus Latin
Relationships

Summer
2

Light and Shadows
Coasts (G)
Events and actions in programs
Sculpture and 3D: Abstract Shape and Space (A)
Minimus Latin
How We Live in Love