The Thrive Framework
We follow the Thrive Approach to ensure support for children is targeted. Thrive is a whole school approach to support children with their emotional and social development to enable them to engage with learning.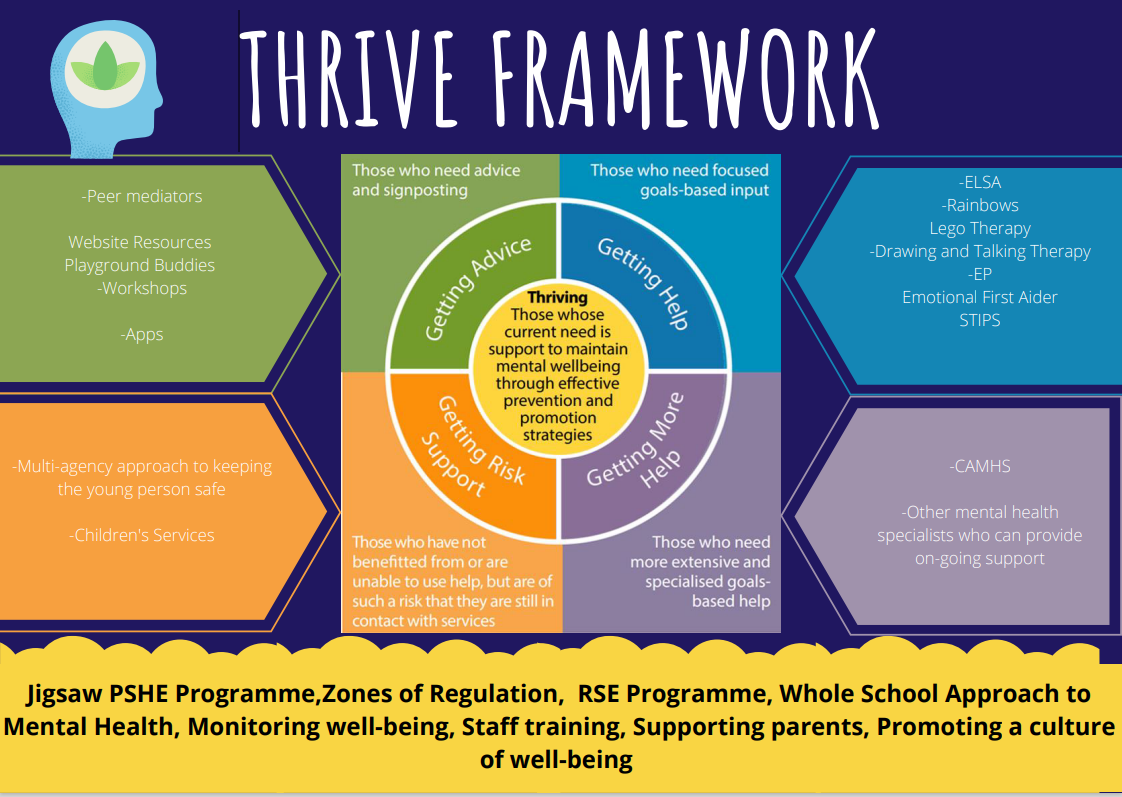 At St Hugh of Lincoln we have a three-tiered graduated approach to support children's mental health and well-being.
Tier 1 Support
The majority of children flourish under our tier 1 provision. This includes class discussions, assemblies, themed weeks, PSHE lessons and using Zones of Regulation. All staff are trained in emotion coaching to help children recognise, understand and manage their emotions. We have children in upper key stage two trained as peer mediators and playground buddies to offer further support to the children. For pupils who need extra support, guidance is sought from the SENCo by the class teacher and parents.
Tier 2 Support
ELSA (Emotional Literacy Support Assistant) – The ELSA initiative was developed and supported by educational psychologists to support children with temporary or longer term emotional needs. An ELSA will usually deliver sessions on an individual basis, however sometimes a small group may be more appropriate. ELSA sessions can support children with a range of emotional needs: self-esteem, developing social skills, friendship skills, recognising emotions, anger management, loss and bereavement.
Children are referred for ELSA support by the SENCo, after a discussion with the class teacher and parents.
Rainbows Bereavement Support Programme – staff in school are trained to deliver this programme which is recommended by the Diocese of Arundel and Brighton to support children who are undergoing change, loss or separation in their lives. This may be due to the death of a loved one or a family breakdown/separation. It gives children the opportunity to talk about their feelings with their peers in a safe and nurturing space and cope with their grief. Children are referred to Rainbows by the pastoral director, after a discussion with the class teacher and parents.
Tier 3 Support
Sometimes, children may need a more tailored approach to meet their needs. Where appropriate, the SENCo will refer to outside agencies or use the educational psychologist who works with our school to offer them further support.
Please talk to your child's class teacher or our SENCo (Mrs Pickard) if you have a concern about your child's mental health or well-being.