Our Patron Saint

Our Patron Saint
Every year on 17th November, we celebrate the feast day of St Hugh of Lincoln with a special whole school Mass and events during that week where the children learn more about St Hugh and how they can show some of the qualities and values he embodied.
Hugh was born in 1135 at Avalon Castle, Burgundy, France. He was the son of William, Lord of Avalon. Hugh was cared for and educated at a convent, following the death of his mother, Anna, when he was just eight years old.
Hugh became a monk when aged 15, and four years later he was ordained Deacon. In 1160, Hugh joined the Carthusian order, and then, five years later, he was ordained Priest. In 1175 he became abbot of the first English Carthusian monastery, which was built by King Henry II.
Hugh's reputation for holiness spread through England, and many people were attracted to the monastery. He was made bishop of Lincoln on 21 September 1181. Lincoln Cathedral was destroyed by an earthquake in 1185, but it was rebuilt under Hugh's leadership.
Hugh spoke out against the mass persecution of Jews in England in 1190-91. He put himself in great danger, standing up to armed groups, making them release their victims. In the year 1200, during the reign of King John, Hugh became ill with an unknown ailment, and on 16 November 1200, he died.
Hugh was canonised by Pope Honorius III, on 18 February 1220.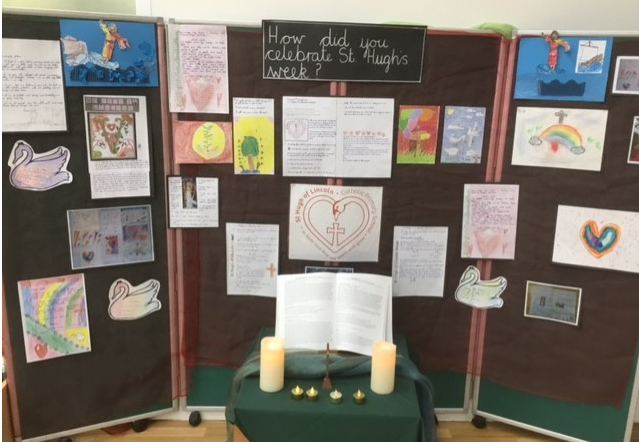 St Hugh's Swan
Hugh's main emblem is a white swan, in reference to a story of a swan with whom he had a deep and lasting friendship. According to the story, the swan would even guard Hugh while he slept. Our children are particularly fond of the St Hugh swan and wanted it to feature in our mission statement which they designed during 2020. We also sponsor a swan (called Brian!) through a charity called the Swan Sanctuary in Shepperton to remind us of St Hugh.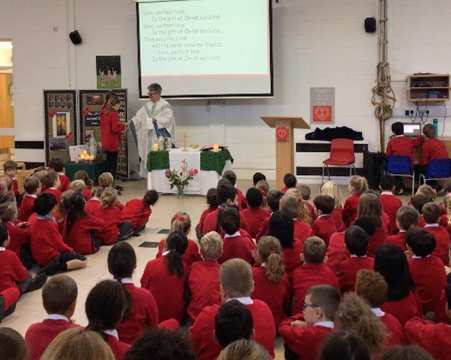 Celebrating the feast of St Hugh of Lincoln together