English
"In Faith and Love, We Learn and Grow."
Intent
Our intent at St Hugh of Lincoln, is to provide an outstanding English curriculum for all our pupils.
English contributes widely to our Catholic identity and the shared development of our values and beliefs. Through staff collaboration, consistent planning and excellent teaching, we have implemented a rich and exciting knowledge and skills based English curriculum.
We aim to nurture resilient readers who feel part of a reading community, enjoying the challenge and the joy of rich literature and non-fiction texts. Writing supports the development of communication and empathy with others, as well as personal development. We aim to develop writers who feel there is a value, a purpose and a beauty in what they write.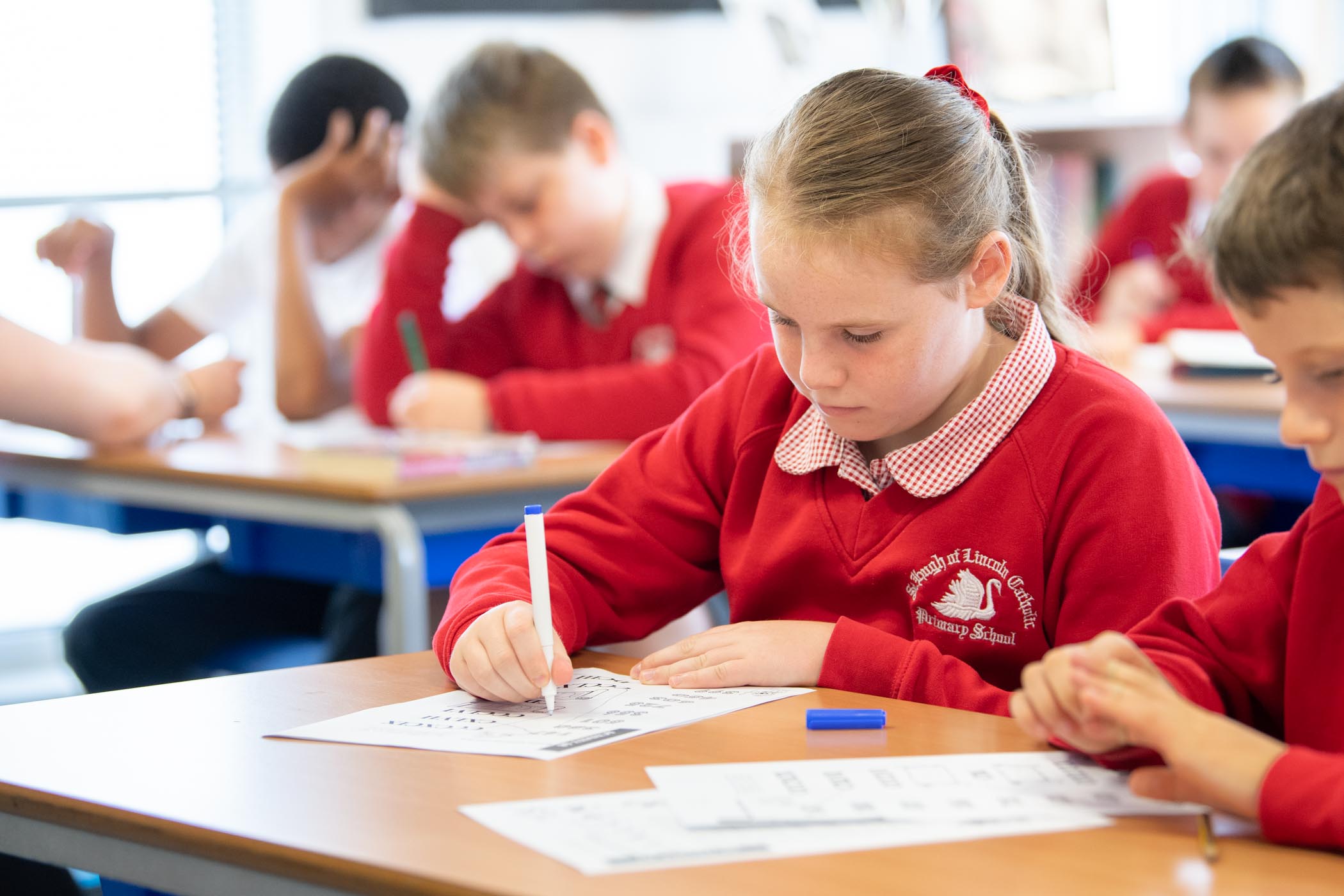 Implementation
Speaking and Listening
Oral language has a key role in classroom teaching and learning. Discussion and interaction can engage children's imagination and foster creativity.
The key areas are:
Speaking: being able to speak clearly and to develop and sustain ideas in talk.
Listening: developing active listening strategies and critical skills of analysis.
Group discussion and interaction: taking different roles in groups, making a range of contributions and working collaboratively.
Drama: improvising and working in role, scripting and performing, and responding to performances.
Talk is an underlying factor in the development of literacy, with children engaging by responding to text and explaining their choices and rehearsing their ideas in advance of writing. In Mathematics, answers can be discussed, data interpreted and relevant language can be developed.
To develop their Spoken Language, speaking and listening skills are developed across the curriculum as well as specifically in activities such as listening games, show and tell sessions, role play and drama, class discussions and debating. Children will be expected to listen to others and respond with sensitivity and respect to the talk of others. The children will have opportunities to speak in front of an audience, using language and techniques appropriate to the task.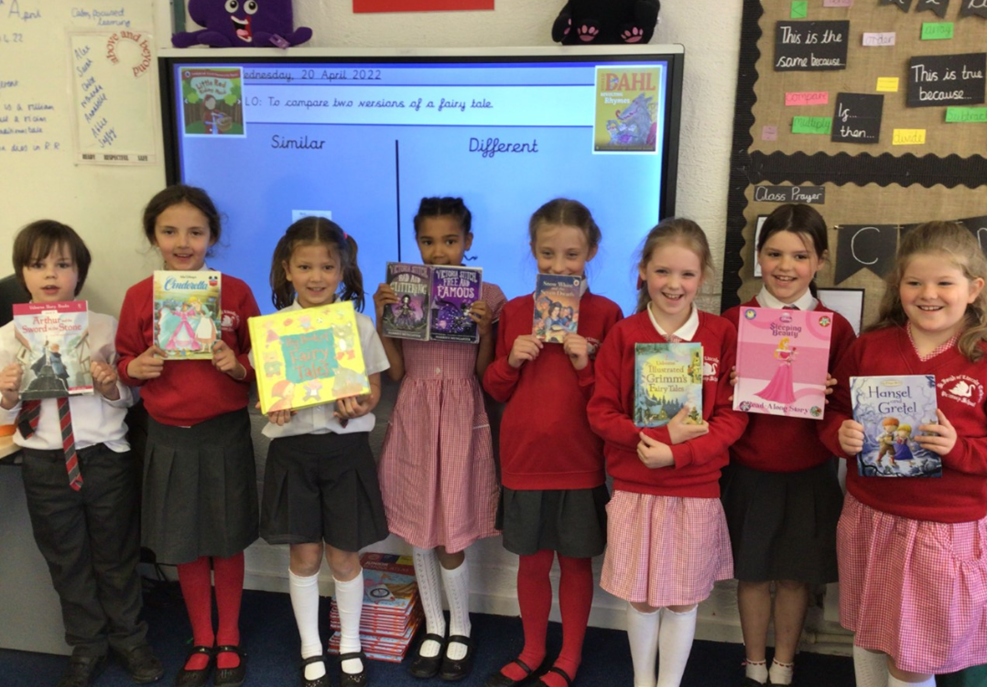 Year 3 - Fairy Tales
Reading and Phonics
"All pupils must be encouraged to read widely across both fiction and non-fiction to develop their knowledge of themselves and the world they live in, to establish an appreciation and love of reading and to gain knowledge across the curriculum. Reading also leads pupils' imagination and opens up a treasure house of wonder and joy for curious young minds." National Curriculum 2014.
Reading is the enabler and every child should be able to read by the end of KS1. Reading is therefore of paramount importance to us and we focus on language skills first in EYFS to help children to do well later in Year 6 and beyond. All the staff at St Hugh of Lincoln recognise the importance of reading as we believe that the larger a child's vocabulary, the higher their chance of achieving academic success. Talking about what they read, develops vocabulary and critical thinking skills. Prior knowledge of words used in different contexts will also help children to learn to read more quickly because their processing speeds will be faster.
St Hugh of Lincoln are introducing read, write ink as an approved scheme of work to teach children systematic synthetic phonics. Children start this on entry to Reception and complete it by the end of the Autumn Term in Year 2.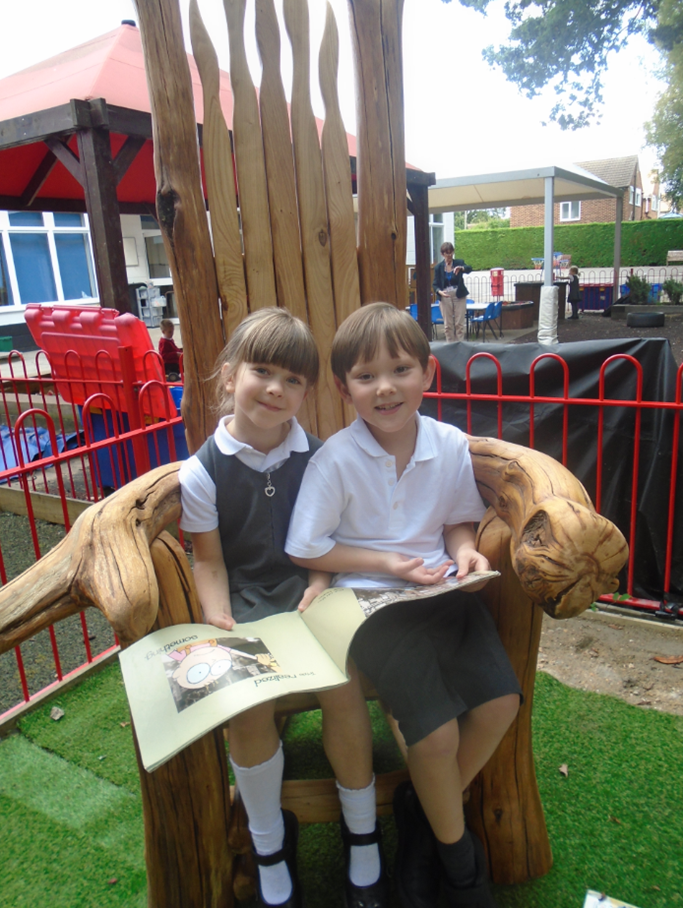 Mastery Approach
We teach blended reading for mastery, which means that we accept that there is no one way of teaching reading. We want all of our pupils to do as well as they can so our 'blended' approach means that we teach reading in different ways as required e.g. 1:1 sessions; small groups and whole class sessions all the way through from YR to Year 6. Pupils who fall behind are supported to catch up quickly through additional and different provision on top of the whole class sessions, appropriate scaffolding and precision teaching.
Environment
Reading is a journey and the learning environment in every classroom reflects this. It is clear from classroom displays and resources being used what stage in this reading journey the children are on. In EYFS and KS1, it is be evident which phonics phase the children are learning and further up the school, classroom displays may focus more on the comprehension skills of inference, deduction and critical evaluation.
Stories, poems, rhymes and non-fiction are all used to develop vocabulary, language, comprehension and above all – a love of reading in every classroom.
Reading for pleasure has a positive impact on children's attainment in reading. Every classroom has a book corner from which children can choose books to read for pleasure during the school day. Children who read for pleasure have enhanced levels of text comprehension, an increasing knowledge of grammar and show improvements in their writing. The advantages of reading for pleasure go beyond academic achievement. Benefits include: increased breadth of vocabulary, pleasure in reading in later life, a better understanding of other cultures, increased general knowledge and a greater insight into human nature.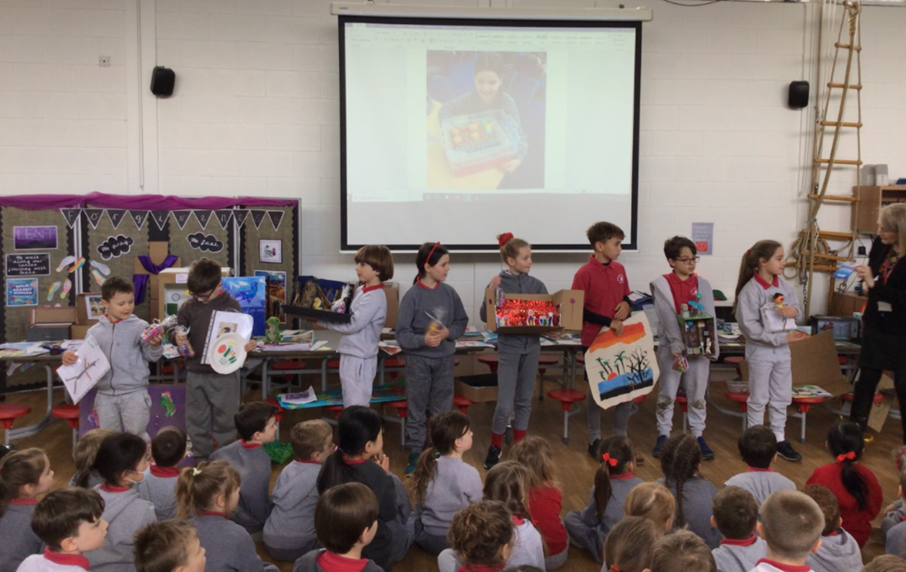 World Book Day Competition Winners 2022
Consistency of Approach
Throughout EYFS and KS1, we use LCP Phonics Planning Lesson Plans, which are based on Letters and Sounds. All members of staff have been trained so we are confident that we take a consistent approach to teaching phonics. Children follow a deliberate sequence through this planning to aid their readiness for KS2.
The structure of every phonics lesson is always the same and is divided into the following sections: Review, Teach, Practice, Application. The Application stage ripples through the whole class teaching and all enhanced provision so that children are 'bumping' into the idea that letters equal sounds wherever they go. This is done by the use of different methods and resources including:
sound cards
words
ordering words into phrases or sentences
matching pictures to words, phrases and sentences
playing word games such as Countdown
reading for sense
pop up fingers
Sound buttons or dots/dashes
Sound talk or sound it out
Rhymes/jingles
Phoneme frames
Word recognition links to comprehension as children begin to understand that what they read needs to make sense. This teaching of comprehension in EYFS and KS1 is an essential building block in terms of creating readiness for KS2. Phonics application is assessed during sessions, through the day and in guided sessions.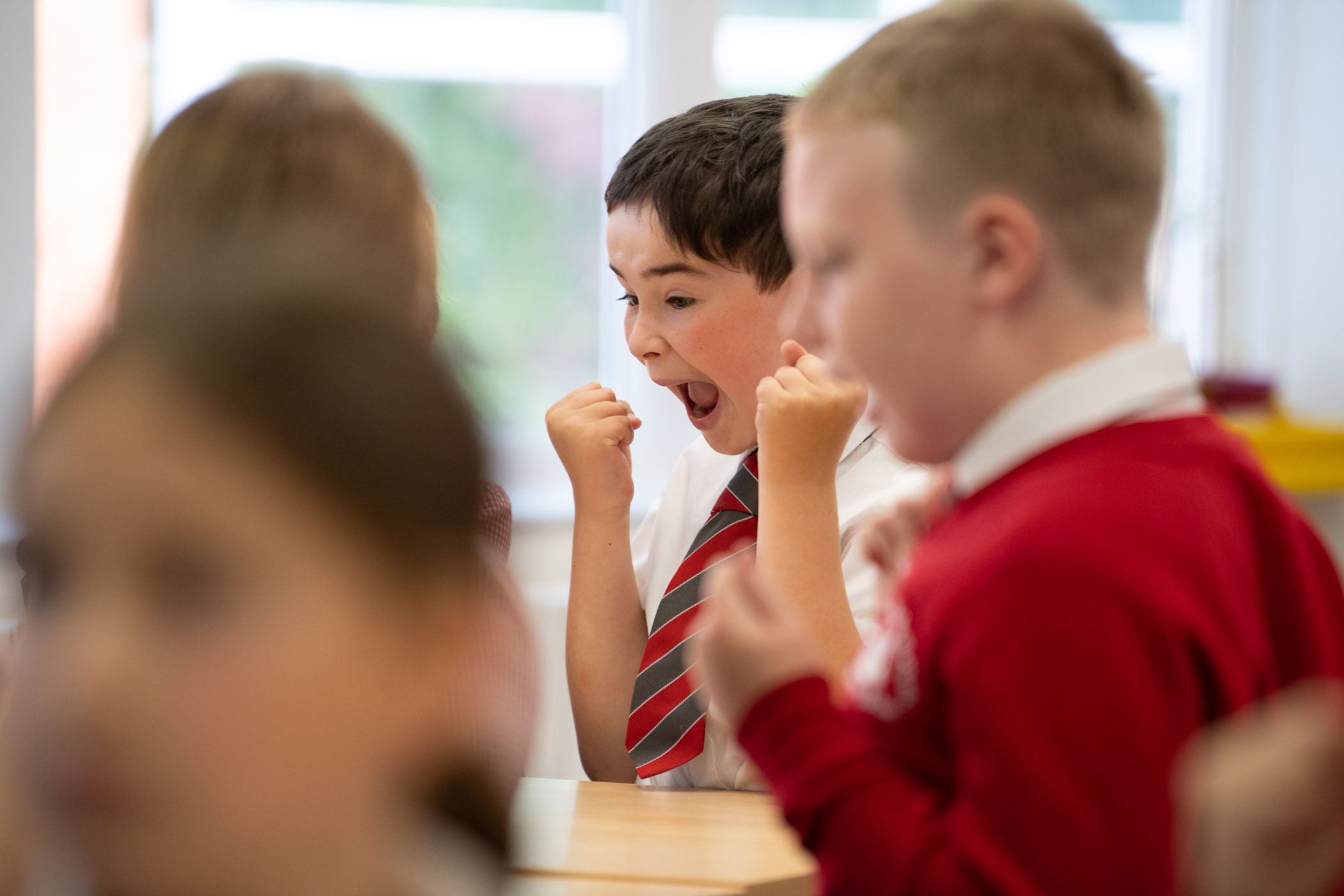 Writing, Spelling, Punctuation and Grammar
There is a strong focus on vocabulary development at St Hugh of Lincoln but also on grammar, punctuation and spelling. SPAG (Spelling, Punctuation And Grammar) is taught both discretely and as an embedded part of English lessons. The use of rich class texts in every English lesson aids the children's understanding of what it means to be a good writer. This inspires the children and aims to develop greater fluency in writing.
The class text, carefully chosen for its use of rich language and interesting storylines, is the stimulus for our writing in English lessons. It provides a context and purpose to our weekly piece of extended writing. Each week, we aim to have a different writing genre focus. At the start of each week, children engage with the text, exploring vocabulary and revising or learning the grammar required to be able to write the required piece. They then plan their writing, using a modelled example to support them. The next step is to write the first draft (from their plan) which they then carefully edit and improve to be finally written up at the end of the week.
Handwriting
We take particular pride and care in our cursive/ joined up handwriting style. Teachers model it carefully and all displays around the school are handwritten in our cursive font. At the end of Key Stage 2, all pupils should be able to produce fluent, legible and joined handwriting.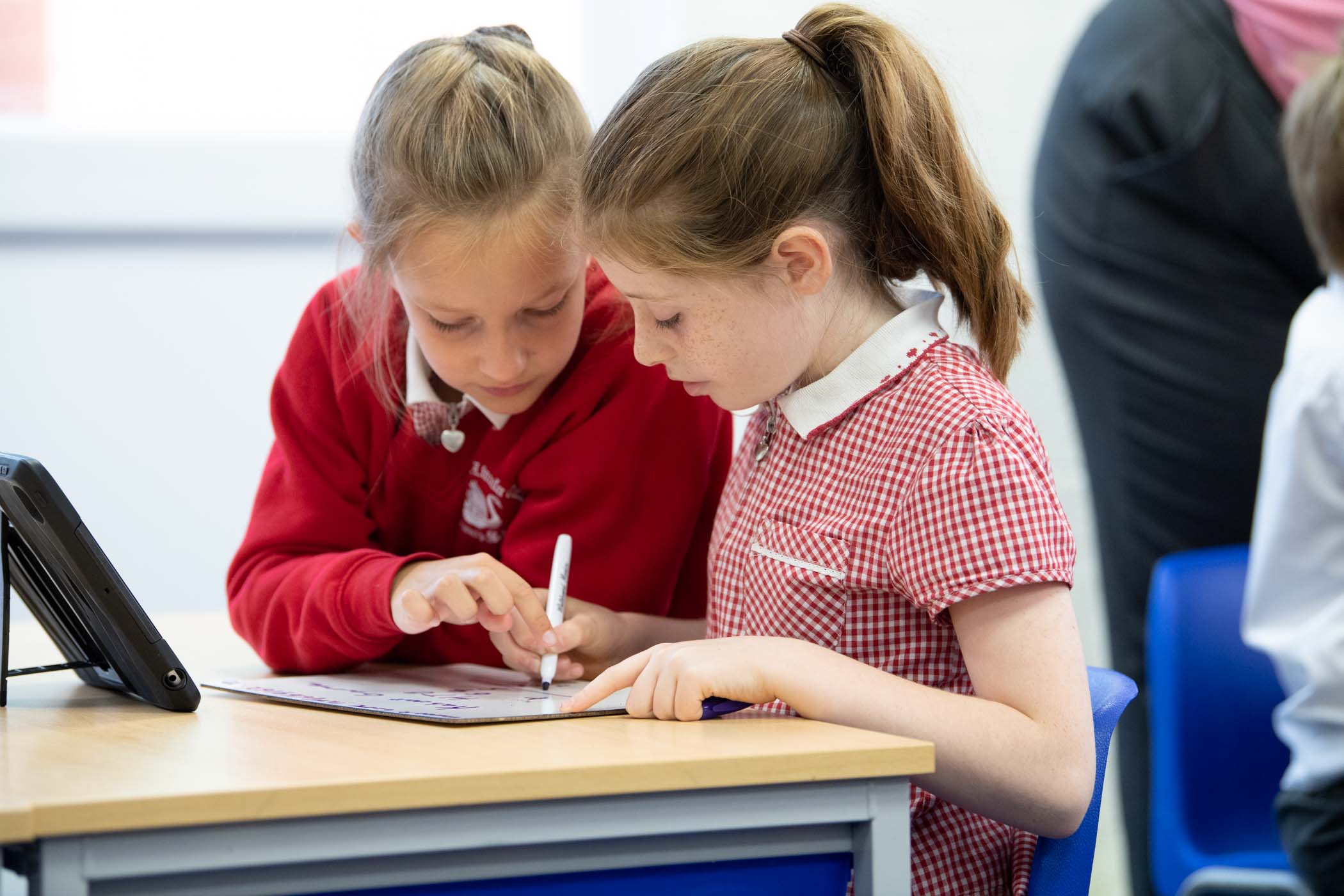 The School Library
At St Hugh of Lincoln, we are very privileged to have an attractive and well-stocked library at the heart of our school. The wide selection of books on offer is regularly refreshed by the Hampshire School Service. Children also have a virtual library available to them via our school website which links to Hampshire Library school services E learning platform. Here they can borrow E Books and Audio Books to listen to at home. We aim to support the choices they make in order to maintain challenge with the help of Our Libra-soft Library cataloguing system. This means that books can be scanned in and out to build up a record of each child's reading diet. We can then ensure that it is wide and varied by guiding them to make alternative choices where necessary. With such a rich diet of reading materials available to them, we expect children to leave us with a wealth of literacy experience and a sound understanding of basic language concepts.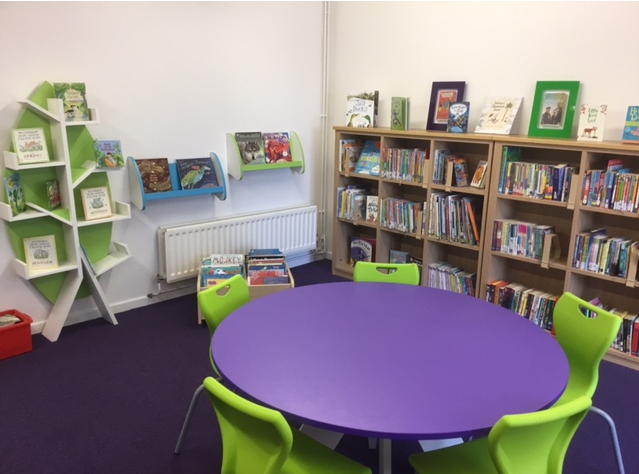 Impact
We are ambitious for all pupils to reach at least ARE, please see our website for our most recent results. However, we also see that English in school has a wider value and purpose. We know that we are achieving our aims and values through various methods and not only through tests as follows:
The quality of writing and children's pride in their writing.
Rates of borrowing from the library and other ways of tracking independent reading.
Pupil voice work on reading enjoyment
Feedback from parents on how the school promotes reading and supports them to support their pupils.
Contact with the wider community – when children talk to visitors, or are part of community. projects and the feedback we receive from outsiders about our pupils.
Opportunities to take part in speaking formal and informal contexts at school Masses and assemblies.
The Phonics screening check, which takes place at the end of Year 1 as per DFE requirements, results are given to parents.
At the end of Year 2 and Year 6, children will sit a SATS Reading Comprehension and a Spelling, Punctuation and Grammar Test.
At the end of Year 2 and Year 6, Writing in English and across the curriculum is assessed and moderated by teachers.
Useful Websites
National curriculum in England: Appendix 1 Spelling
National curriculum in England: Appendix 2 Vocabulary Grammar and Punctuation
Learning to read through phonics Information for parents
Hampshire School Library Service
Spelling Shed https://www.edshed.com/logout
Pobble 365 One picture. One Teaching resource. Every day.